StoColor
®

Climasan

®

mimics nature to provide cleaner, fresher air indoors.
Clean air at
the flick of a switch.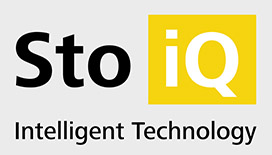 StoColor® Climasan®, part of Sto's iQ Technology™ family of coatings, is an innovative interior flat wall and ceiling coating that when exposed to a light source will neutralize odors from the air. The coating attracts harmful substances and odorous gas molecules suspended in the ambient air, which cling to the coated wall and ceiling surfaces. When the catalyst in the paint is activated by an artificial light source or sunlight, it breaks down the pollutants and odors into their smallest constituent components which then evaporate. The result is pure fresh air.
The principle of photocatalysis is as old as nature itself. Using sunlight and chlorophyll as a catalyst, plants produce oxygen and glucose. StoColor Climasan makes use of this effect: light activates a catalyst in the interior coating which neutralizes organic odor substances and pollutants in the ambient air. All that is required for this process – known as photocatalysis – is a natural or artificial light source and a surface coated with StoColor Climasan. Naturally, the greater the light intensity and the larger the surface area, the better the effect.
Features
Contains Visible Light Catalytics (VLC) to degrade harmful organic compounds when activated by natural daylight or artificial interior lighting
100% Acrylic
Free of solvents and plasticizers

Benefits
Eliminates odor and harmful substances to generate fresh indoor air


Easy to apply and long lasting
100% safe for use in virtually any application