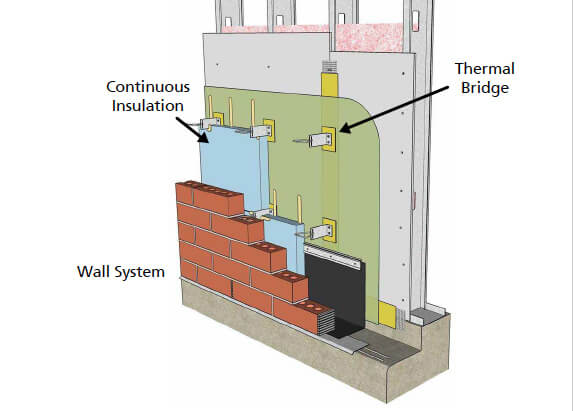 Thermal Bridging Guide Helps Designers Cut Building Costs
Any designer or builder in Canada seeking maximum energy efficiency needs two things: a tight building envelope and a new guide that shows you how to minimize energy leakage. The Building Envelope and Thermal Bridging Guide (BETB) from engineering firm Morrison Hershfield and BC Hydro Power Smart is a good place to start.
The Guide focuses on "thermal bridging," a critical component of heat loss that has, until now, been hard to measure and mitigate. The term refers to the pathways of high heat flow through walls, roofs and other insulated building envelope components that allow heat to bypass the insulating layer, effectively undermining the purpose of the insulation.
The BETB Guide provides easy-to-use methods for understanding and mitigating thermal bridging during the design process. Since heat loss and air leakage across the exterior building envelope can account for more than 50 per cent of the total energy load, addressing thermal bridging can deliver sizeable energy savings over the lifetime of the structure.
Reducing thermal bridging also means improved comfort and air quality for the occupants, and can lead to a longer life for the building envelope. Following the Guide can save you time, reduce guesswork, and improve the accuracy of your energy performance estimates
The guide is divided into three sections. Part 1 is a catalogue of the thermal performance (effective R-values) of more than 230 envelope assembly details commonly used in British Columbia, with ideas about how to minimize thermal bridging.
In the past, building energy modelers often used nominal R-values, leading to faulty estimates of heat loss. By contrast, the Guide's thermal analysis is exact and reliable.
Part 2 supports a cost/benefit analysis of the expenses associated with improving thermal performance vs forecasted energy savings. Part 3 discusses how design practitioners, as well as government and utilities, might use thermal bridging information in both design and in new building codes and bylaws.