Super-hydrophobic exterior coating with Lotus-Effect® technology.
StoColor® Lotusan® is a smooth, vertical, above grade exterior wall coating with Lotus-Effect® technology for concrete, stucco, masonry and ci wall systems.
The StoColor® Lotusan® exterior coating possesses a highly water-repellent, self-cleaning, surface similar to that of the lotus leaf. Its micro-structure has been modeled on the lotus plant to minimize the contact area for water and dirt. The surface lowers maintenance costs by extending cleaning and re-coating cycles.
StoColor® Dryonic® ensures dry, beautiful, and radiant facades that last.
A building's aesthetic depends on more than the colors, materials and original design, it requires high performing materials that ensure the beauty will last. StoColor
®
Dryonic
®
, part of Sto's IQ Technology™ family of coatings, combines supreme performance with intelligent technology – for optimum resistance to weathering and protection against algae and fungi.
Preserve the value of buildings by serving as a breathable, durable and attractive layer of protection.
Sto Acrylic Coatings bring a wealth of protective characteristics and aesthetic options to building design, extending the lifetime of a structure's appearance and protecting it from the elements. Whether new construction or recoating, Sto Acrylic coatings preserve the value of buildings by serving as a breathable, durable, attractive layer of protection.
Decorative coatings which bridge hairline cracks and increase weather resistance and permeability.
Sto Elastomeric coatings can cover hairline cracks, dramatically improving a building's appearance. High elongation properties help the coating remain intact over hairline cracks caused by thermal changes in the substrate and offer excellent hiding properties. Sto Elastomeric coatings resist wind-driven rain and absorption of water in direct contact with vertical surfaces. They also offer superior UV resistance and deter growth of mold and mildew.
Create visual interest, hide imperfections and maintain a new look for longer.
Sto Textured Coatings are acrylic based coatings used over prepared vertical concrete, stucco or masonry surfaces. They are ideal to hide minor surface imperfections. They come in a wide variety of textures and colors utilizing the StoColor System and Collections.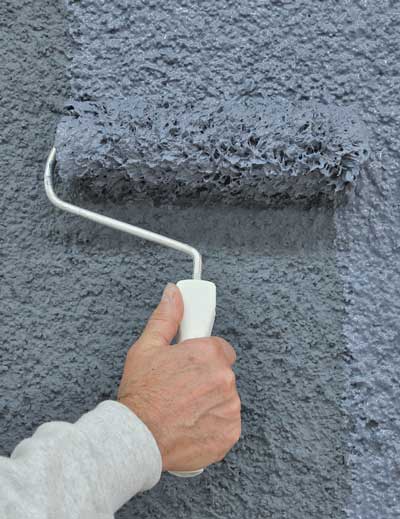 Prepare any type of substrate prior the application of Sto Finishes and Coatings.
Sto Primers can be used for priming prepared concrete, masonry, plaster, Continuous Insulation Systems, base coats or drywall surfaces prior to application of Sto Finishes and Coatings. Available in both sanded and smooth textures, Sto primers promote uniform substrate absorption and can help maintain proper dry film thickness. In many instances, they can also lower your overall costs by extending topcoat coverage.